White Plains High School
550 North Street, White Plains, NY 10605
本周教师家长会 Parent Teacher Conference this Week
Dear parents,
We will have our second parent teacher conference (PTC) for this school year at 12/6. PTC is a very important meeting for parents to know the teachers and the curriculum. It is also an opportunity for you to voice your concerns or ask questions. Please make every effort to attend and be on time.
Pre-K, K ,CLS and some classes will have PTC during class time in their own classroom. Your teacher will tell you specific time slot for you to go the classroom. Some classes will have PTC in B cafeteria. More details below.
Note: A few classes may not hold PTC this week due to absence of your regular teacher or conflicting schedule. Please follow your teacher's instructions.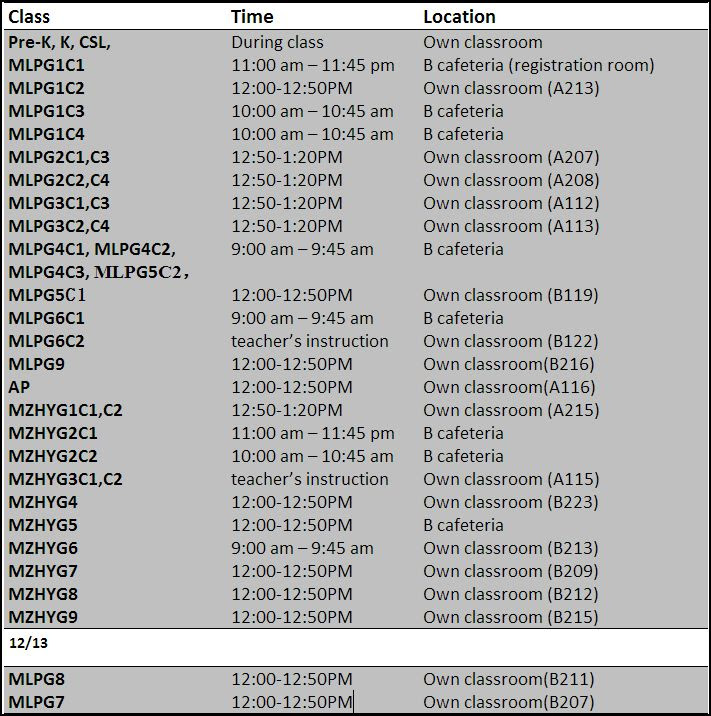 back to top
Dear parents,
Just to toss into the mix of the upcoming holiday season excitement,  the Speech Contest will be held on 12/13/2015 1:30pm.  Parents please clear your child's schedule for that afternoon as the order of appearance is determined by raffle drawing. Top 3 ​winners from grade 1,2,3 will join the 6-school Reginonal Final (华夏总校决赛)  on 01/10/2016. G4+​ winners will be Student MCs in future school events.  Further questions?  Please contact ​Yiqiao Mao yiqiao.mao@gmail.com.
亲爱的老师和家长们,


我们的全校春节联欢会将提前至周日1/31/2016, 从过去除夕"欢欢喜喜过大年", 变成在腊月小年夜"欢欢喜喜过小年"。2/7/2016 除夕学校放假。01/31 学校照常上课,个别pre-k 到3年级的第4堂文化课取消, 请各位家长注意通知。新春会餐于11:30am开始,演出12:45pm开始。期待与大家01/31共送灶神。
​
back to top
小语世界第三期 Student Corner 3rd Issue
2015-2016《小语世界》第三期与大家见面了,清新版面, 精彩文章,请点击这里阅读。如果你有好的文章,愿与我们分享, 请将稿件投至hxgnysubmissions@gmail.com.
Please click here for Student Corner 3rd Issue.
周日有小枇杷杂志优惠订购活动。时间9:30-12:00,地点在B registration room. 《小枇杷》为北美3-12岁学习汉语的孩子量身定做, 每期杂志配有同步电台。有兴趣的家长可用现金和支票购买。小枇杷官网www.pipamag.org
午餐服务 Lunch service at B registration room
为了方便家长记忆,每个月的上半月的前两周的周日由康州的大唐负责午餐服务,每个月的下半月的后两周的周日由Flushing的福冕负责午餐服务。 本周12/6和下周12/13 号由康州的大唐Jinn's Fresh 提供服务。为了满足部分家长的需求,大唐在午餐服务的同时提供外卖服务。目前外卖品种有手工冷冻白菜和韭菜猪肉水饺,手工鳗鱼丸和土豆鱼丸,口水鸡,夫妻肺片,酱牛肉,烤麸,醉鸡,凉拌海蜇,红烧肉,香烤鱿鱼,至尊火锅,栗子板鸭,兰州拉面等。本周午餐会在11:30pm 开始卖饭。地点不变,仍在楼上的B seminar room, 只收现金。
为保证学校清洁卫生,请大家用餐后自行清理桌面,保持地面清洁。可以将食品带回家, 但校园用餐只限于餐厅内 (绝对不可以到其它教室或室外用处)。烦请所有家长遵守。谢谢大家的配合。
Lunch service starts at 11:30am at the B registration room.
大纽约华夏中文学校校委会