一周要闻 News of the Week
大纽约华夏中文学校董事会通告 Board Announcement                                   
2017年11月12日大纽约华夏中文学校董事会选举了新学年董事长。经全体董事投票一致通过,林骏、曹作军当选为2017-2018年度联席董事长,并与2012 – 2017学年董事长胡大鹏完成职责交接。林宇、 黄岳两位董事完成三年任期,卸任董事职务。苏红、栾鲁光、 马婕增补为新学年董事。华夏大纽约中文学校建校五年来,在董事长胡大鹏以及历任校长带领下,在数以百计的志愿者、 教师的共同努力下,不断发展壮大, 成为华夏系统以及美东地区声名卓著的华文学校之一。 我们衷心感谢胡大鹏董事长五年来为学校建设做出的无私奉献。 新学年里学校迁至SUNY Purchase,这为学校的发展提供了新的机遇, 也带来了新的挑战。董事会将一如既往地与校委会密切协作,根据新校园特点,在课程设计、 社区活动方面发展出学校新的办学特色,并进一步完善学校制度、 规程、教学管理,百尺竿头,更进一步。
新学年董事会成员为:林骏(董事长),曹作军(董事长), 吴莉华(董事会秘书),胡大鹏,林利, 廖冰,栾鲁光,马婕,苏红,夏璐琳,徐俊,张钺。
请点击这里(http://www.hxgny.org/wp/board-of-directors-advisory-board-2015-2018/)阅读董事会成员简历。
本周日 12/10  9:30am – 12:00am 电影鉴赏讲座《钢的琴》                                  

    电影鉴赏讲座:
电影《钢的琴》(2010,张猛)与
中国后社会主义城市与工人
邀请大家一起来观赏和讨论中国电影《钢的琴》,影片涉及作为社会主义时期重工业基地城市沈阳的衰落与当地工人的境况。影片结合喜剧与歌舞元素,在后工业废墟中寻找黑色幽默与历史的出口,作为现实的映照与作为有社会关联性和观赏性的电影作品,都值得探究。
张泠,SUNY Purchase电影与媒体系助理教授,芝加哥大学电影系博士,北京电影学院电影美学硕士。拍过纪录片,作过影评人。目前教学和研究方向包括华语电影、电影声音、纪录片、电影与城市、旅行电影等。
地点:Humanities building lecture hall 1032
上周日演讲大赛圆满成功  Speech Contest Update                                           
What a successful event Sunday!  Our children have put forth such an incredibly captivating performance. Congratulations to all!
A big shout out goes to our independent judges who have no kids in the contest and stayed for the whole contest:  何清, 刘颖,陈萌,Wendy Cheng, 田樑, 吴嘉骏, 何芳,  孙凌云, 许春川,吴水清。 Many volunteers have contributed tremendous amount of time and energy, can't say enough thank you to all of you, especially the score keepers/assistants, their meticulousness and integrity is the keystone to this event's success. 组织人: Zhendi Shi 施臻娣,Yiqiao Mao 毛怡乔 。
Top 4 winners from grade 1 to 3 will proceed to the Hua Xia 6-school Regional Final on 01/7/2018.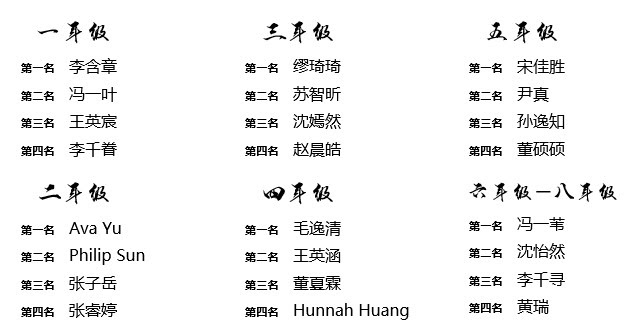 请帮助我们共同的学校                                                                                        

假日购物季已经到了,请各位家长在购物的时候,用一分钟设置一下,Amazon会把每一份订单的0.5%捐给学校。
SmileAmazon的介绍,请 点击这里
学校上周公布了捐款方式,已经收到了一些热心家长们的捐款。真心感谢大家!学校搬到新的校园,更大,更新,但费用也更多。为了学校健康发展,我们确实需要大家的帮助。大家的学校,大家一起建设,让我们的孩子在学校里学的更多,更好,也更快乐!
华夏大纽约学校联系和沟通方式                                                                          
大家可能知道, 我们华夏大纽约中文学校全部是志愿者无私奉献运作的 。 最近有家长问怎样和学校沟通和联系, 下面给大家解答一下:
如果碰到独立处理有困难的紧急事件(比如地面上有呕吐物, 学生或者家长争吵等等),请立即联系 Humanities Building一楼大厅的家长值班组成员,由他们汇报给校长为首的Admin team来尽快妥善处理。如果事件非紧急,请电邮联系HXGNYadmin@googlegroups.com

, 学校会及时关注和回复。

 

 

家长若对教师的教学或其他方面有问题或建议, 中文学校鼓励家长首先跟老师沟通。若谈过了对效果还是不满意,请 电邮联系HXGNYadmin@googlegroups.com

, 学校校长,语言课教务长或 文化课教务长会及时关注和回复。

如果注册课程方面有问题,请电邮联系 HXGNYregistrar@gmail.com
如果要买书, 请电邮联系  HXGNYoffice@gmail.com
如果有人愿意为学校捐钱或来开讲座等,请电邮联系 HXGNYsponsor@gmail.com
多谢大家,我们共同努力把学校越办越好!
How to communicate to HXGNY school admins:
As many of you may know, our HXGNY Chinese school is completely run by volunteers.  Some parents recently asked how to communicate to the school, please see below:
Thank you for all your support to our school!