本期编辑: 肖雁 (Sandy Xiao)
本周日5/28为国殇日长周末,中文学校没课。
祝家长同学们度过一个愉快的长周末!
School will be closed this Sunday in observance of Memorial Day.
Have a Great Memorial Day weekend!
---
华夏大纽约2017-2018学年注册通知 Calendar of Events for 2017-2018 Registration   
Please note the following major events relating to class registration for the new school year:
Wednesday 5/31/2017 12noon, online registration opens for existing families with younger students (Grade 3 and younger).
Thursday 6/1/2017 12noon, online registration opens for existing families with older students (Grade 4 and above).

Information for 2017-2018 school year is on the school website, including class schedule, class description, teacher assignment, and teacher bios.  Please read the information and choose your classes carefully to minimize unnecessary changes and cancellations.
More information also posted in Registration Special Edition Newsletter.
PayPal users will enjoy much faster and easier registration. We strongly suggest you get a PayPal account if you don't have one yet.

Sunday 6/4/2017 10:00am, online registration for new families opens
Sunday 6/4/2017 10:00am -1:00pm Open House; On-Site Registration

Classroom visit; textbook samples; volunteers and teachers on site to answer your questions.
On-site registration: volunteers are available to help you with registration.

Early registration discount ends on 7/9/2017.
The First day of school for all students is 9/10/2017.
Parent class registration will start on 8/13/2017. Classes begin on the 2nd week of school, 9/17/2017.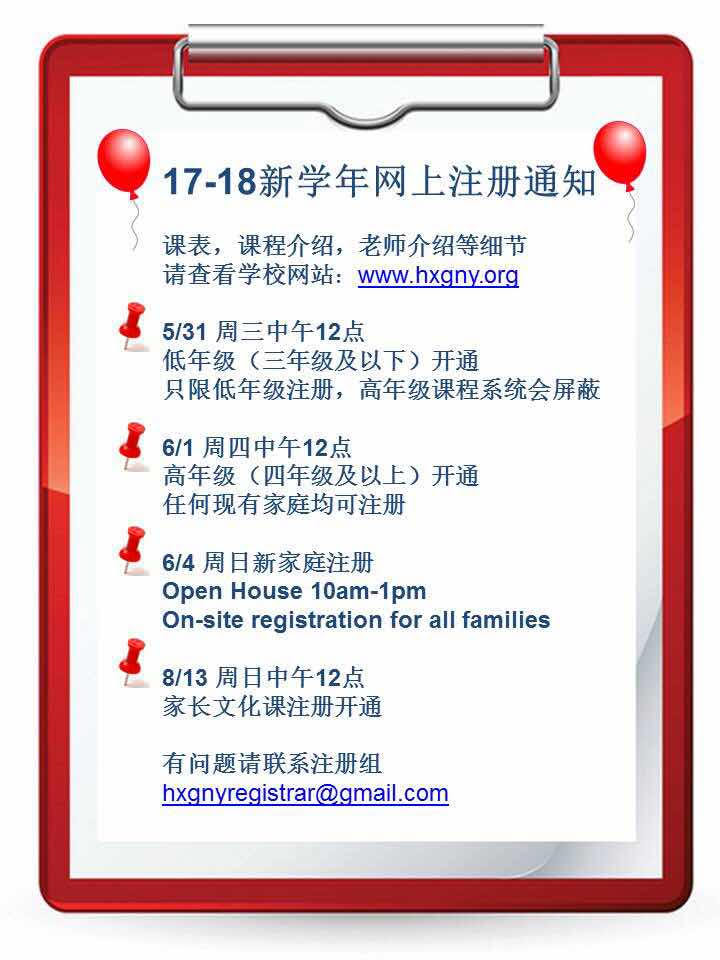 ---
6/4 华夏大纽约开放日 June 4th HXGNY Open House (On-site Registrations Open to All Families
6/4/2017上午10:00am-1:00pm 将举行一年一度的学校开放日。开放日当天我们会有多个注册台现场注册答疑,为所有新老家庭服务。不论您是需要现场注册,还是在网络注册后有疑问,我们都可以帮助您。开放日期间我们安排了内容丰富的课程介绍,教材展示和校舍参观。大家将有机会与教师,学校管理人员,家长及学生交流,并从他们那里听到关于学校的第一手资料, 如语言课和文化课的设置,为孩子和家长,爷爷奶奶安排的活动等等。希望大家广为宣传,介绍各界朋友参加,让更多的家庭了解和走进华夏大纽约。Our annual Open House will be held on Sunday 6/4 from 10am-1pm at our White Plains High School facility. We will have multiple registration counters there to assist with all registration-related questions, both to accept new registrations and to troubleshoot online registrations you already submitted.
There will be extensive displays of posters about our curriculum, teachers and activities. Parents can talk with school leaders, teachers and other parents to get first-hand experience about our school. They can leaf through textbooks, visit classrooms and gym facilities, and experience the community life here. It is a great opportunity to learn more about our school. Please spread the word and encourage anyone interested to attend this event.
---
新学年注册注意事项 Information regarding Registration
2017-2018 学年课程注册将于5/31日开通。新学年增开了新的语言, 文化课程,注册程序及规定也有新的变化。注册开始前,我们希望家长们:
1. 开通Paypal 账户, 方便注册缴费。
2. 登录学校注册网站,验证以下内容。
a. 用户名及密码。 如果你忘记了注册名或密码, 请点击"Forget Password"图标,完成确认后, 系统会自动发送密码至您的邮箱。
b. 检查账户余额,未付清欠款前将无法注册。 如有问题请发邮件到hxgnyregistrar@gmail.com
c. 更新联系方式.
3.查阅学校网站 http://www.hxgny.org, 了解2017-18学年中文课,文化课的课程表及老师信息
Registration for the 2017-2018 school year will open 5/31. Before registration starts, we would encourage families to:
1. Open a Paypal account if you haven't done so, this will greatly improve your registration experience
2. Log in to your school account and check out the following:
a. Your user name and password. If you forget them, please click the "Forget Password" icon, your account login and password will be sent to you via email.
b. Check your account balance. Families need to clear all outstanding balance before they can register for the new school year. If you have questions regarding your account balance, please email hxgnyregistrar@gmail.com
c. Update your family contact information if any changes happened in the past year.
3. Check school website http://www.hxgny.org for 2017-18 class listings and teacher's Bio.
HXGNY Registration Team
大纽约华夏中文学校校委会
hxgnyadmin@googlegroups.com
2016-2017