---
华夏大纽约2017-2018学年注册通知 Calendar of Events for 2017-2018 Registration   
Please note the following major events relating to class registration for the new school year:
Online registration for all grades is open to all current HXGNY families.

Information for 2017-2018 school year is on the school website, including class schedule, class description, teacher assignment, and teacher bios.  Please read the information and choose your classes carefully to minimize unnecessary changes and cancellations.
More information also posted in Registration Special Edition Newsletter.
PayPal users will enjoy much faster and easier registration. We strongly suggest you get a PayPal account if you don't have one yet.

Sunday 6/4/2017 10:00am, online registration for new families opens
Sunday 6/4/2017 10:00am -1:00pm Open House; On-Site Registration

Classroom visit; textbook samples; volunteers and teachers on site to answer your questions.
On-site registration: volunteers are available to help you with registration.

Early registration discount ends on 7/9/2017.
The First day of school for all students is 9/10/2017.
Parent class registration will start on 8/13/2017. Classes begin on the 2ndweek of school, 9/17/2017.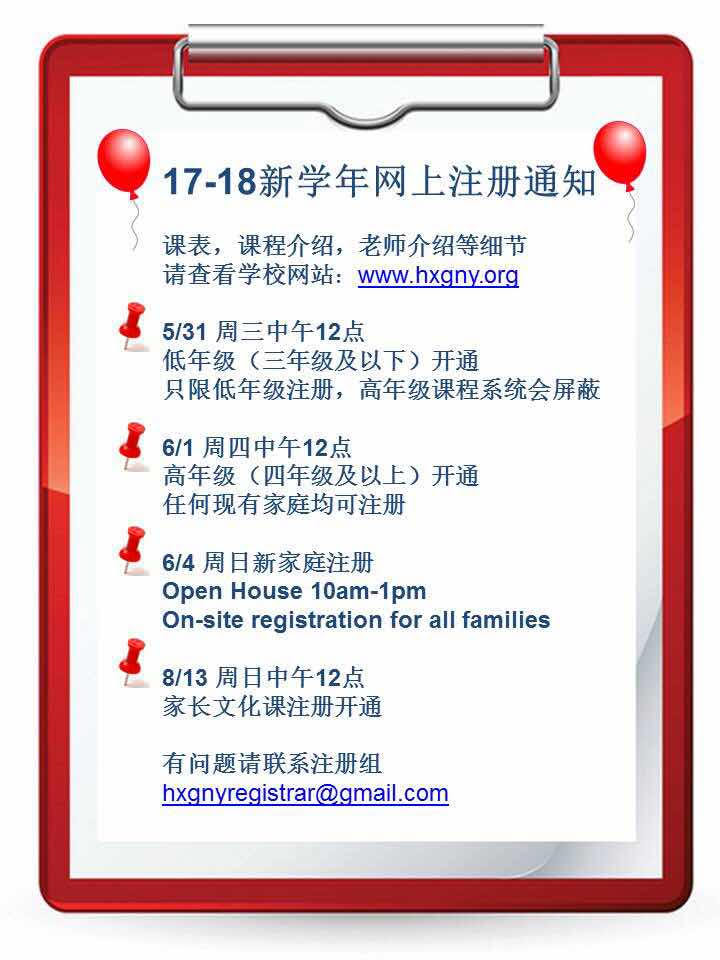 ---
6/4 华夏大纽约开放日 June 4th HXGNY Open House (On-site Registrations Open to All Families
6/4/2017上午10:00am-1:00pm 将举行一年一度的学校开放日。开放日当天我们会有多个注册台现场注册答疑,为所有新老家庭服务。不论您是需要现场注册,还是在网络注册后有疑问,我们都可以帮助您。开放日期间我们安排了内容丰富的课程介绍,教材展示和校舍参观。大家将有机会与教师,学校管理人员,家长及学生交流,并从他们那里听到关于学校的第一手资料, 如语言课和文化课的设置,为孩子和家长,爷爷奶奶安排的活动等等。希望大家广为宣传,介绍各界朋友参加,让更多的家庭了解和走进华夏大纽约。
Our annual Open House will be held on Sunday 6/4 from 10am-1pm at our White Plains High School facility. We will have multiple registration counters there to assist with all registration-related questions, both to accept new registrations and to troubleshoot online registrations you already submitted.
There will be extensive displays of posters about our curriculum, teachers and activities. Parents can talk with school leaders, teachers and other parents to get first-hand experience about our school. They can leaf through textbooks, visit classrooms and gym facilities, and experience the community life here. It is a great opportunity to learn more about our school. Please spread the word and encourage anyone interested to attend this event.
---
新学年注册注意事项 Information regarding Registration
2017-2018 学年课程注册已开通。新学年增开了新的语言, 文化课程,注册程序及规定也有新的变化。注册开始前,我们希望家长们:
1. 开通Paypal 账户, 方便注册缴费。
2. 登录学校注册网站,验证以下内容。
a. 用户名及密码。 如果你忘记了注册名或密码, 请点击"Forget Password"图标,完成确认后, 系统会自动发送密码至您的邮箱。
b. 检查账户余额,未付清欠款前将无法注册。 如有问题请发邮件到hxgnyregistrar@gmail.com
c. 更新联系方式.
3.查阅学校网站 http://www.hxgny.org, 了解2017-18学年中文课,文化课的课程表及老师信息
Registration for the 2017-2018 school year is open to all current HXGNY families. We would encourage families to:
1. Open a Paypal account if you haven't done so, this will greatly improve your registration experience
2. Log in to your school account and check out the following:
a. Your user name and password. If you forget them, please click the "Forget Password" icon, your account login and password will be sent to you via email.
b. Check your account balance. Families need to clear all outstanding balance before they can register for the new school year. If you have questions regarding your account balance, please email hxgnyregistrar@gmail.com
c. Update your family contact information if any changes happened in the past year.
3. Check school website http://www.hxgny.org for 2017-18 class listings and teacher's Bio.
HXGNY Registration Team
---
下周日(6/11)本学期期末讲座:家庭教育和美国学习闲谈-2017美国总统学者奖获得者和他的家长 10:00-11:00am (B Seminar Room) 
华夏大纽约中文学校的校友,今年美国总统学者奖获得者尹渭博,并获得学校高中最高学业成就荣誉,在本学期期末将回母校,给大家分享在美国学习的感想和体会,以及今年被众多美国常春藤名校录取的经验。他的父亲尹永义博士将给大家交流家庭教育的心得。欢迎大家和这父子俩一起交流和探讨家庭教育和学习心得。
William Yin, an alumnus of Huaxia Chinese School Greater New York, who was selected as a U.S. Presidential Scholar, named as his high school valedictorian, and was accepted to numerous Ivy League and top-tier universities, will come to HXGNY to share his experience with academics and the college process. Dr. Mark Yin, his father  will share his experience in youth education. All are welcome to join the seminar discussions.
---
华夏大纽约学生发起的"科学与技术" 俱乐部本学期期末的一次活动:地点 B119教室,时间11:55-12:55。俱乐部的目的是让学生了解当今的科学与技术, 增强对科学与技术的兴趣, 开发学生对这方面课题研究的潜能和创新精神。6/11 俱乐部将会邀请多次在国际英特尔比赛大奖的获得者,华夏大纽约俱乐部创办者尹渭博,他最近被邀请参加今年在瑞典举办的诺贝尔颁奖典礼。他将来到俱乐部讲解他的科研经验,用通俗易懂的语言概述他最近的一些研究成果,以启发学生对科研的兴趣,希望学生积极参加。如有问题,请联系Verna Yin: vernayin08@gmail.com
The Science and Technology Club will invite its club founder, William Yin, to return for a presentation. In the years since founding the club, William has garnered multiple Intel International Science Fair Grand Awards and was also recently invited to attend this year's Nobel Award Ceremony. He will share his experiences in the sciences and aims to bolster students' interest in science and technology. We hope to see students at the club at 11:55am-12:55pm in room 119.  Contact Verna Yin for any questions vernayin08@gmail.com
---
小语世界第十五期 (2016-2017) Student Corner Edition 15
点击查看HXGNY小语世界第十五期 (2016-2017)
Please click and view the 15th issue of the student corner (2016-2017)
---
征聘2017-2018学年学生助教(Calling for Student TA) 
学生助教是华夏大纽约教学队伍的重要部分。 通过协助老师教学,学生可以提高中文水平, 锻炼独自与成人和少儿沟通能力,发扬社区服务精神。 如果您或您的孩子有兴趣, 请填表报名
https://docs.google.com/forms/d/1oMCeXoMOR1v4ZzlX2rh1CqnXUy1T5A3Opp-EUUFjahM/edit#responses
Student TA is an integral part of HXGNY. Through assisting teachers in classroom activities, students can improve their Chinese level, gain experience of better interaction with adults and children, and serve the community.  If your child is interested in becoming a student TA, please sign up from this Google Form:  https://docs.google.com/forms/d/1oMCeXoMOR1v4ZzlX2rh1CqnXUy1T5A3Opp-EUUFjahM/edit#responses
大纽约华夏中文学校校委会
hxgnyadmin@googlegroups.com
2016-2017